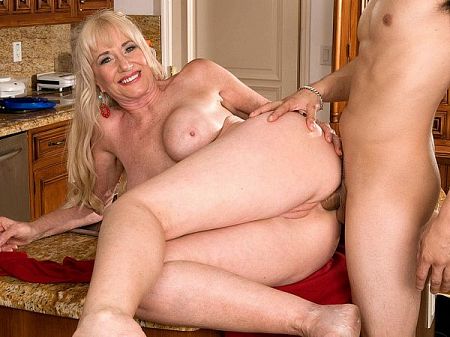 For her first on-camera fuck, 59-year-old Summeran Winters reenacts one of our favorite scenarios: MILF seduces the delivery boy. Now, if you've ever been a delivery boy, you know this kind of thing happens all the time. Real-life MILFs really do seduce the delivery boy, whether it's the pizza guy or the supermarket guy.

The thing is, though, usually the delivery boy is on the receiving end of the best blow job of his life. In rare instances, he gets some pussy to fuck. But how often does he get to fuck the MILF in the ass? Almost never, which is what makes this scene so special. That and the fact that he gets to fuck Summeran in the ass on the kitchen table.

"In my personal life, I love anal sex, so why wouldn't I want to have anal sex my first time in front of the camera?" Summeran said. "Some people make a big deal out of anal sex, but to me, what's the difference between me having a penis in my pussy or a penis in my ass?"

By our estimate, a few inches, at most.
Related MILF Bundle Videos