Sandra Ann is 75. The guy is 27!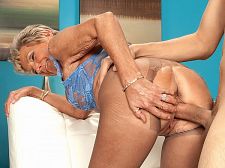 "Oral sex is the most satisfying thing a woman can do for a man, but it also pleases me," says 75-year-old Sandra Ann, our oldest MILF ever. "I can actually climax giving a man oral sex. And I love to swallow."

At the end of this scene, Sandra Ann proves how much she loves cum by sucking her young stud to the verge of orgasm then having him jack into her mouth. Some of his cum drips down her chin, but she slurps up the rest and cleans up his cock using her mouth and tongue. Every woman in the world should be required to take blow job lessons from Sandra Ann. The world would be a much happier place.

"I'm 75," Sandra Ann says in the brief interview at the start of this video. "I'll be 76 in July. I love sex. I love men. Age is just a number."

Juan, the guy she's sucking and fucking in this scene, is 27, more than young enough to be Sandra Ann's grandson.

The truth is, there aren't a lot of 75-year-olds like Sandra Ann, but there's at least one, and we've got her.
Related MILF Bundle Videos